SYSPRO Versatile Financial Reporting - Using Custom Panes and Microsoft Excel.
This quick 20-minute video will give you the flavor of SYSPRO Custom Panes and Excel to bring extended drill down capabilities to SYSPRO General Ledger and enterprise financial reporting showing you the data which exists to help serve up better business intelligence and decision support.
SYSPRO has built-in Versatile Financial Reporting capabilities.
Utilizing Custom Panes, a standard part of SYSPRO, lets you see your financial data the way you want to see it; maximizing the value and speed of useful information delivered to your SYSPRO dashboard.
Watch the video to get a more in depth look at SYSPRO Versatile Financial Reporting.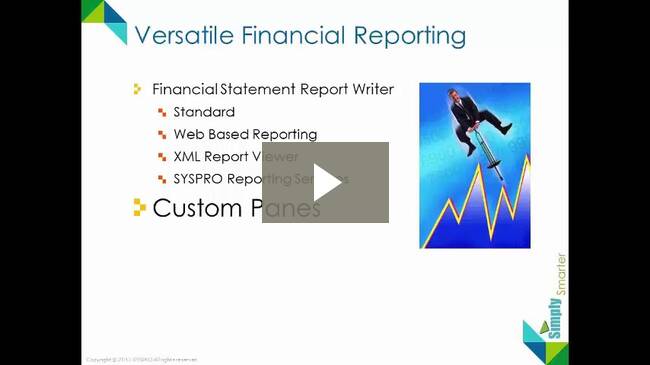 As always, we are here to support your enterprise SYSPRO software.
If you would like to schedule a brief call to look at your company's financial reporting needs, please fill in the form and we will be in contact with you. Or you call us directly at 800.742-4868.