Advanced Factory Scheduling - Visual Planner
Introduction to Factory Scheduling with Visual Planner for SYSPRO and other Enterprise Technology Systems
Factory scheduling software from Santa Clarita Consultants for SYSPRO utilize the strengths of a range of tools, but configured it in a way that will work elegantly and logically with the core SYSPRO modules (WIP, BOM etc).
Watch the introductory video: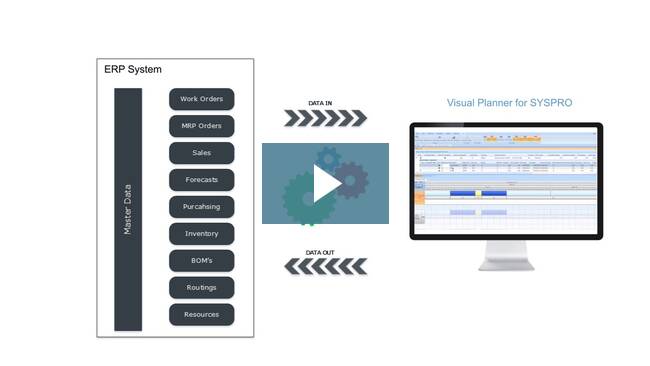 Business Goals:
Make the best use of cash available. This means freeing it up from Work In Process (WIP) and Stock (Inventory) so it can be used to finance business/


Reduce costs. Key costs to a manufacturing business will be labor and materials.


Remain competitive while achieving these, ideally get better with shorter lead times and reliable delivery promises. Expectations
on
suppliers are higher now because customers are going through the same changes.
Typical Scenario:
ERP users typically use manual non-integrated methods to plan production such as excel spreadsheets. Schedules are totally blown apart when a rush order appears, re-work is required, operators report sick, a machine breaks down, or demand does not match the forecast.
The effect on business:

Your Schedulers time spend endless hours re-assigning work, changing priorities or altering process routes to meet delivery dates.




You rely on subjective knowledge and have very little visibility or control of the production planning and scheduling process.

Unreliable production plans will result in higher operating costs and a potential loss of business.
Factory Scheduling with Visual Planner:
Factory Scheduling with Visual Planner systems increase in functional richness and capability.
A sophisticated advanced scheduling system employs algorithms which consider all constraints such as tooling, material requirements, etc. Providing a true APS (advanced planning and scheduling) tool.
These tools are all pure scheduling tools. Using these tools does not imply that you will not require other high-level planning processes and tools to be in place. The scheduling tools work in conjunction with these tools to form a complete end-to-end planning and scheduling cycle.
Benefits proven by Case Studies:
Fully integrated with your SYSPRO ERP System, Visual Planner will drive the optimization of the production planning process, providing the control required for effective planning and resource management.
Visual Planner provides your business with a tool that provides the following benefits:
Purchasing: Reduce cash spent on raw materials, supplies, WIP,
final
stock. 10-30% savings possible.


Improve Customer Service: Provides customers with reliable order promise delivery dates.


Reduce labor costs: Streamlines your capacity to make best use of your labor


Production Schedulers: – reduce time spent planning by 50% and deliver consistent and reliable productions.


Improve production efficiency: Maintains the capacity of work centers, avoiding the peaks and troughs


Fast payback: 50% reduction in planning time, freeing up cash tied up stock, 10-30% reduction in WIP.


Integrate with and extend SYSPRO: Designed from the outset to work in co-operation with SYSPRO and Shop Tracker so gets the best from the customers existing or planned investments.
Enabling ERP Systems:
Santa Clarita Consultants offers a factory scheduling solution designed to enable rather than replace ERP software. It provides the detailed planning and scheduling functionality required to be more agile and respond to changes in demand.
Summary of the benefits:
Easy to use, learn and implement.

Significant benefits to your business by freeing up cash, reducing costs and improving customer service.

Fully integrated to SYSPRO

A tool to help you and your master scheduler to work better and improve your ability to respond to change.

Strategic software that will help your business

optimize

the production process, providing the control required for effective planning and resource management.

Skilled reliable support to protect your investment and to keep your business competitive.
Take the opportunity to discuss your Production Planning and Scheduling requirements with our highly skilled consultants and see if Visual Planner for SYSPRO is a good fit for your business.
Call us today to arrange a discovery meeting or demonstration. Or use the form to introduce yourself and inquire about advanced scheduling with Visual Planner software.